Posted by
ajoctriblog
on Nov 26, 2015 in
Blog
,
Race Reports
|
Comments Off

on 11/26/15 Arizona Road Racers Thanksgiving Classic 10 Mile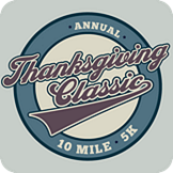 2015 was my third time competing in the Arizona Road Racers Thanksgiving Day Classic 10 Miler.  It's a fun event, with pies for top finishers, and usually gets a good turn out of people because it offers both a 10-mile and a 5k.   After Austin 70.3, I took an entire week off, a week of light workouts, and then it was already Thanksgiving week.  When it all added up, I really hadn't done much running in the two weeks prior but I knew some of my fitness from Austin would still be there.  This race wasn't much of a priority for me, as it is not a triathlon, but it's always fun to burn some calories before eating a bunch of food later in the day.
Around 7:55am, I lined up with all the other racers doing the 10-miler waited for the gun.  It was a nice change of pace just being able to walk up to the starting line, no worries about my wetsuit, goggles, bike, and nutrition,.  Talk about low stress!
I started out the first two miles (5:30's for both) pretty quickly, as the front group started to form.  There were 4 guys who edged ahead of me after 2.5 miles.  After that, it got really separated behind me.  I wasn't feeling so hot and thought maybe I went out too hard, wondering if was in for a long hour.  Even though it was pretty uncomfortable I just focused on putting one foot ahead of the other and trying to catch 4th place.  Eventually, by 3.5 miles I caught 4th place and we ran together for a while.  By the turn-around at 5 miles, I started to break away from him a bit.  I even started to feel like I had settled into a more comfortable pace.  I could see third place, but he was quite far ahead.  I noticed he kept looking back at me to see how far behind I was.  Meanwhile, first and second place opened up a huge gap.  My split at 10k was 34:50 which was pretty good for me.  I've run close to that off the bike in an Olympic distance race before.
The last few miles were fine and I got some good cheers from people running the opposite way on the out and back course.  I noticed a guy slowly gaining on me, and was surprised by this because I didn't recognize him from the front group, so he really must have negative split.  By mile 9, I definitely felt the effort from the first few miles.  The two prior years int his race, I negative split the 10 miles, but this year would be different.  It felt like survival mode.  Eventually, the guy behind me came flying by with about 400 meters to go.  He ended up crossing 2 seconds ahead of me but, I was still happy to get to the finish in 5th place.  After looking at the results, I noticed the guy who passed me at the end was in the 45-49 age group.  Pretty impressive!  My time was 55:45.   Last year I ran 57:05, so I had a PB (personal best).  Maybe next year I can get top 3.  And eat more!